The goal of a mommy makeover is to restore the shape and appearance of a woman's body after childbearing. 
Mommy Makeover Get Your Pre-Baby Body Back
What are the most common procedures in a mommy makeover?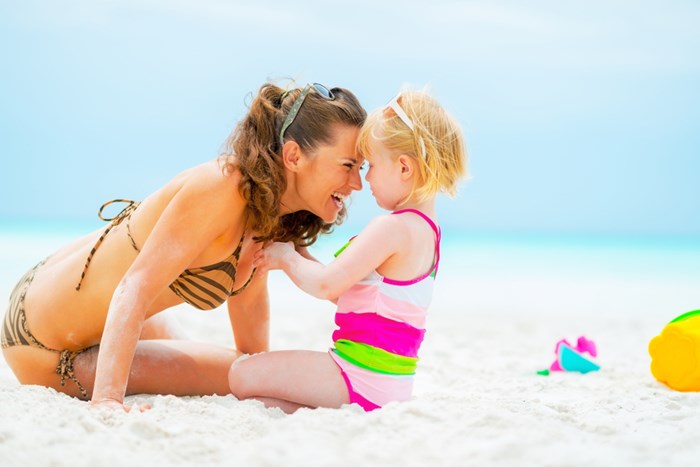 Having children is a wonderful experience, but motherhood can produce some significant changes to a woman's body. While some mothers consider these changes to be a "badge of honor," many women are unhappy with their post-pregnancy body, which may include sagging breasts, loose abdominal skin and stretch marks, a thicker waist and stubborn fat deposits. Women who have had one or more children may wish to return their body to pre-pregnancy glory with a combination of plastic surgery procedures, known as a mommy makeover.
Tummy tuck Abdominoplasty, also known as a Tummy Tuck, can remove excess skin and fat, tighten and restore the abdominal muscles and move the navel or belly button back to a "normal" position.
Breast augmentation and/or lift
As part of a complete mommy makeover, "Breast Enhancement with a Breast Lift" may be done to return a youthful shape to the breasts. This is often called a "breast augmentation/mastopexy." It involves a breast lift to remove excess skin and reposition the areola, but may also include an augmentation with a saline or silicone implant to increase or restore upper breast fullness with the breast lift. A breast reduction may be performed at the same time for women whose breasts remain too large after pregnancy.
Liposuction
Liposuction removes this fat and can improve the contour of the abdomen, hips and thighs. Liposuction can also be performed in the upper arms, knees and neck or anywhere that fat appears out of place. It should be used as a "contouring" procedure and does not take the place of weight loss.
The most important aspect of a mommy makeover is that it can be done safely by a board-certified plastic surgeon with true expertise in these procedures. It is also important that these procedures are done in an accredited operating facility with an anesthesiologist providing care during and after the procedure. A nursing facility should be close by to allow for supervised recovery for at least 24 hours postoperatively, for monitoring and to ensure safety.
Women who are unhappy with their physical appearance after giving birth to one or multiple children can restore the body to a better place with a Mommy Makeover. To me this represents more than one area of the body to be rejuvenated simultaneously to make the woman feel refreshed and erase some of the "battle scars" of pregnancy so she can feel more confident in her appearance.
Mommy makeover – how soon is too soon?
Following pregnancy, despite regular diet and exercise, some women may find that they have excess skin in the lower abdomen, and others may find that they have breasts that have lost volume and "sag," even after returning to their pre-baby weight. A mommy makeover describes the surgical procedures done to correct these changes and may include an Abdominoplasty (also known as a "tummy tuck"), liposuction, and either a breast lift, breast reduction or breast augmentation.
These surgeries are body contouring procedures, not weight loss procedures. To ensure that you have a long-lasting result, you should be at your goal weight for at least six months and have stopped breast-feeding for 6 months. It's important to have stopped breast-feeding because your breasts need to return to their normal size and shape and stop producing milk.
Patients are advised to have completed childbearing before proceeding with a "mommy makeover." You can have a successful pregnancy after a "mommy makeover," but you may require more procedures if you have more children or large weight fluctuations after your initial surgeries.
Before getting any surgeries, the body must have recovered completely from childbearing and nursing and the patient should be within a few pounds of ideal body weight. This may require changes to the diet or physical activity level; the healthier the body, the more successful recovery will be. A new pregnancy will often "undo" the effects of the surgery and women are often advised to complete all pregnancies before considering any of the mommy makeover procedures.
What a mommy makeover isn't
Having realistic expectations about your mommy makeover is crucial for being happy with the results, especially in the long run. It's important to know what a mommy makeover can't do for you.
It can't save your marriage. If your marriage is already strained, going through the surgery won't help and might even put more stress on your relationship. I always discuss this aspect with my patients. I explain that at the end of the day, it's your body. If you're trying to look like the hot young secretary at his office, that won't happen. That's not a good motivation for surgery.
It's not weight loss surgery. A tummy tuck is meant to remove an overhang, not remove large amounts of abdominal fat. Before I do a tummy tuck, I recommend that you be within 10 percent of your ideal body weight—that's where you're going to have the best results. Liposuction only removes small amounts of body fat in select areas. Of course, losing weight is easier said than done, and sometimes women will choose to go through the surgery a little bit before they get to that 10 percent ideal body weight level; some just can't ever get there.
The results can still be good, if not excellent, but some patients are willing to accept that.
It's not magic. You're trying to look and be the best that you can be. I can't turn you into somebody else.
It won't turn the clock back 20 years. A mommy makeover can do a lot to restore your body to its pre-pregnancy shape and give you a more youthful appearance, but we can't make you look like you're a teenager again.
If you are interested in restoring your body after childbirth, consider your reasons for surgery, visualize your goals, set realistic expectations and schedule a consultation with a board-certified plastic surgeon.